The New Financial Center​
Türkiye is ranked 13th among the largest economies in the world and second in its region in terms of purchasing power parity. Since 2002, Türkiye has tripled its Gross Domestic Product in US dollars. During the same period, exports have grown by x5 and imports by x2.5. Istanbul's share of Türkiye's exports is 50.6%, with a 54.6% share of imports.İstanbul alone accounts for one-third of Türkiye's total Gross Domestic Product at TRY 1.3 trillion. İstanbul Airport serves over 70 million international passengers annually and will soon have the capacity of 225 million passengers.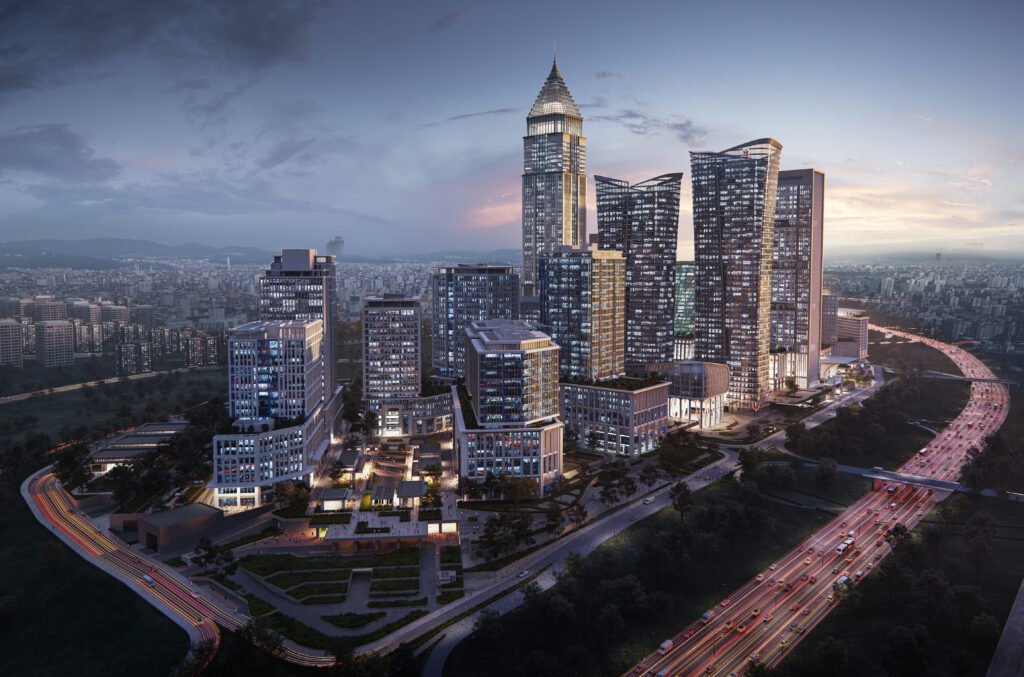 Established to provide an efficient financial services ecosystem, the İstanbul Financial Center (İFC) aims to deliver growth to the Turkish economy and international investors by becoming a regional center in the short term and a global center in the medium term. İFC will bring together public and private sector banks, asset management companies, brokerage firms, insurance companies, and professional service companies along with Turkish and international financial institutions.The IFC peoject will include the offices of the Central Bank of the Republic of Türkiye (CBRT), Banking Regulation and Supervision Agency (BRSA), Capital Markets Board of Türkiye (CMB), Borsa İstanbul, Türkiye Sigorta, Ziraat Bank, Halkbank, Vakıfbank and İŞ REIC.
It will include:





A 100,000 m

2

 shopping mall, 





A  congress center (with the capacity to hold up to 2,100 people)





A 30,000 m

2

 5-star hotel, a car park (with capacity for 26,000 vehicles),



All created within a 'smart city' model.
 Built-in a smart city model, there are 21 world-class offices, all equipped with state-of-the-art facilities and advanced technologies, and could host up to 50,000 employees daily, offering a state of the art working environment, as well as green space and leisure facilities that will help to support work/life balance and wellbeing for all visitors. As the İFC was developed during the COVID-19 pandemic, all offices are equipped with windows that can open and UV-filtered ventilation systems to ensure that all employees can work in a safe environment.

This financial services ecosystem, which embraces advanced technologies, adopts a smart city model.
Smart Office

E-mobility

Fully Distributed Fibre

Back-up Electricity

Fresh Air

Fast Provision

LEED Gold Certificate

Storage Areas
The İstanbul Financial Center boasts parking capacity of 26,500 vehicles, a multi-purpose performance and congress center with capacity for 2,100 people, a 5-star hotel, art gallery and academic buildings. Close to the city center, its transportation infrastructure has been strengthened by its connection to the metro station and surrounding highways.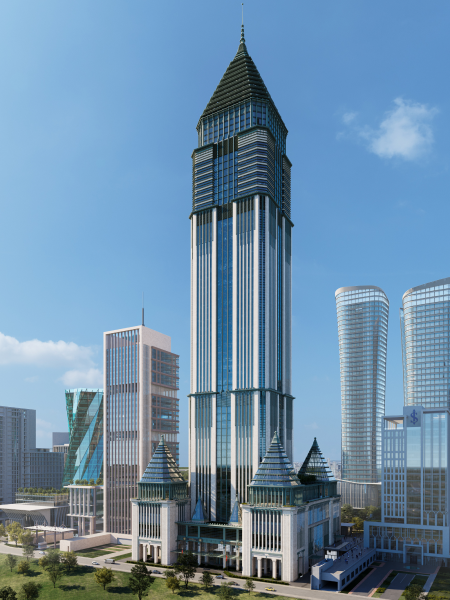 Inspired by local and traditional architecture, yet also truly modern, the tower reflects the prestige of the CBR
With a construction area of approximately 300,000 m², the 60-storey TCMB Tower is the tallest building in Türkiye. The base floors host a conference hall, museum, library, restaurant, sports fields and winter gardens. The tower floors are dedicated to office space and meeting areas.

The structure of TCMB Tower, owned by and home to the Central Bank of the Republic of Türkiye (CBRT), has been designed by Vizzion Architecture Şefik Birkiye.
Hosting the headquarters of Vakıfbank, Vakif towers have been designed to represent Islamic culture, science and arts, from the 13th century to present day.
The 40 and 26 storey towers have been designed in the shape of an octal star, a powerful symbol of Islamic architecture. The façade design is based on Seljuk geometry, and was created through the mathematical, pattern-based techniques of Seljuk architecture.
Office Space for Rent: B Block

Total Number of Floors: 26 floor

Standard Floor Area (gross): 1,338 m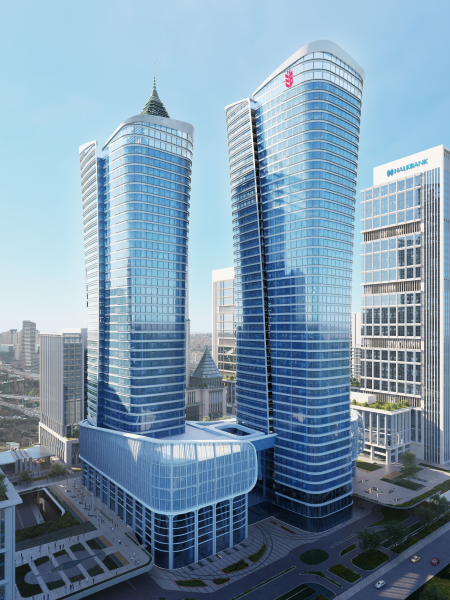 Ziraat Bank's new Head Office, the Ziraat Towers, were designed by the international architecture firm KPF (Kohn Pedersen Fox) and developed by A Tasarım Mimarlık. The towers pay homage to traditional Turkish architecture and are inspired by the tughra symbol.
Built on an 8-storey podium, the two towers are 40 and 46 storeys respectively. The 40-meter-high courtyard at the center of the building connects the interior and exterior spaces.
This large building of approximately 431,000 m² has office space, restaurants, a gym, commercial areas, an auditorium with capacity for up to 500 people, multi-purpose meeting rooms, prayer rooms and roof gardens.
Office Space for Rent: B Block

Total Number of Floors: 40 floor

Standard Floor Area (gross): 1,886 m²
The combination of stone and glass in the towers' façade blends traditionalism with modernity.
The İstanbul Finance Center's "Halk Towers" are designed to be the entrance gate to the main square of the İFC premises, and consist of two A+ office towers rising above the podium, food and beverage areas, the auditorium and commercial units. The 46-storey main tower is planned to be the Halkbank Head Office, and the second, 32-storey tower, a commercial office building.
The buildings have a simple, classic design and have been built to the highest standard – from earthquake resistance, fire safety and energy efficiency, to comfort levels and circulation performance. The LEED Platinum green building certification, natural ventilation on the tower floors, "super double deck" elevators, natural lighting and glass with high thermal capacity make these towers an exceptional space.
Office Space for Rent: B Block





Total Number of Floors: 33 floor





Standard Floor Area (gross): 1,735 m²
The arch forms used in the façade of the 4-storey podium structure draw on features from traditional architecture. In the tower building, the transparent glass and solid-surfaced façade create a sense of movement, bringing together traditional and modern architecture in a truly unique way.
Two floors on the ground level are reserved for commercial units and 16 floors are reserved for office spaces. These functional areas are designed in accordance with the green building LEED GOLD certificate to help meet sustainability targets.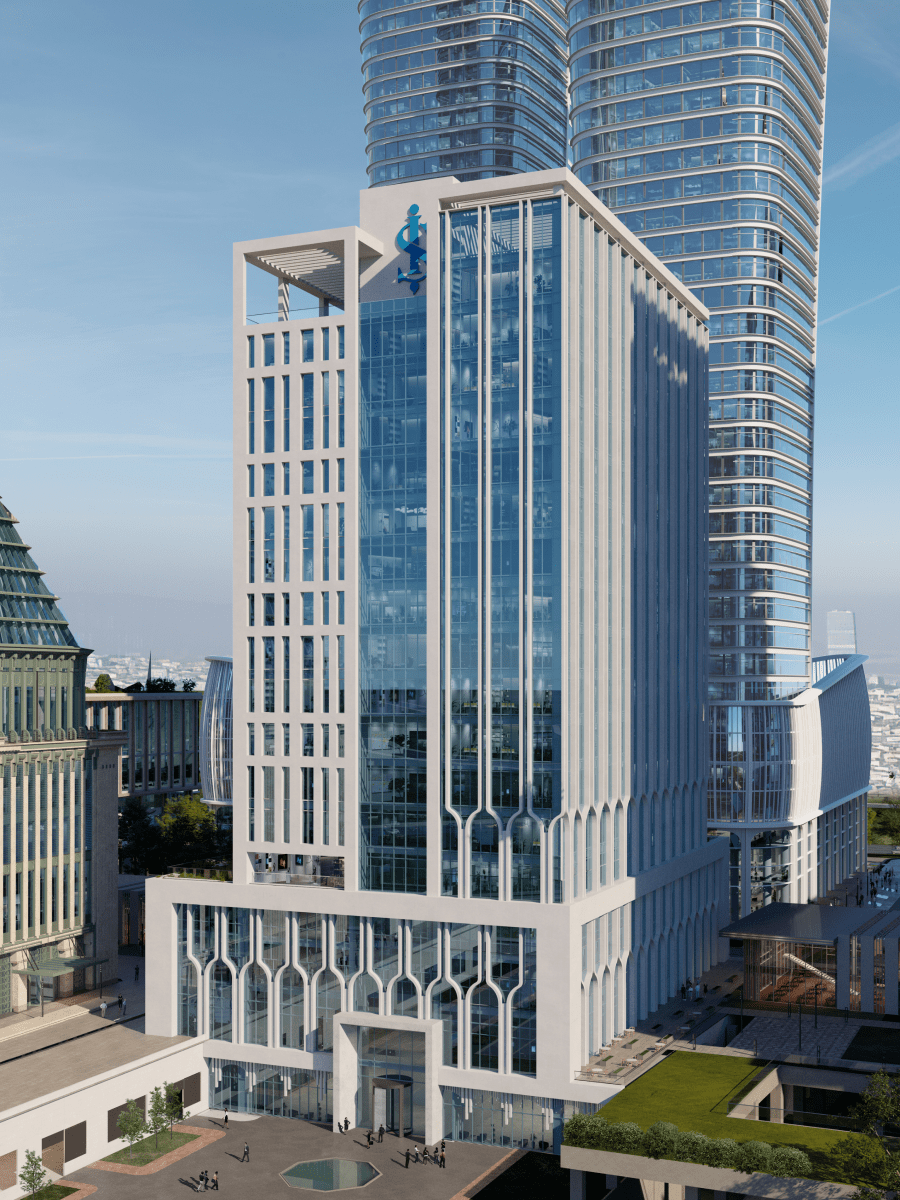 İş Tower was designed by HOK and Dome+Partners 
Seven basement floors.




Four podium floors.




14 office floors. 




Two terrace areas, one on the podium floor




Open air social areas
Stock Exchange Tower has high-capacity venues such as conference halls, multi-purpose meeting rooms and ceremony areas. It is highly energy efficient, with green terraces and a façade structure that allows for natural air, light, and wastewater recycling.
 Stock Exchange Tower is located in the northwest of the premises. Surrounded by parks and recreation areas, the building structure consists of a base podium and a tower, featuring distinctive eaves.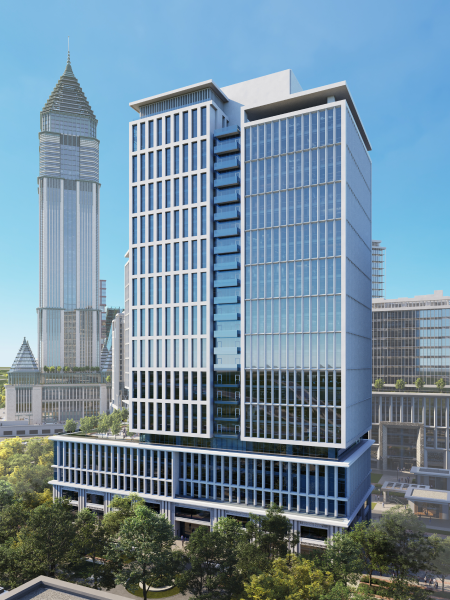 At the entrances of the building are pentagonal motifs, which have a very important place in Turkish decorative art.
 Insurance Tower is located in the west of the premises. Human scale has been an important factor in the design of this building, and the solid-void ratio applied throughout the façade has been carefully considered, unifying the design of the base and tower.
Effective planning of the space has allowed for an abundance of natural light, excellent ventilation and circulation performance, as well as high levels of energy efficiency and comfort.
Historical motifs, weaved into the façade of the base structure, combined with the simple modulation on the tower floors, represent the strong connection between the past and present.
Mall (THE HEART OF GLOBAL FINANCE)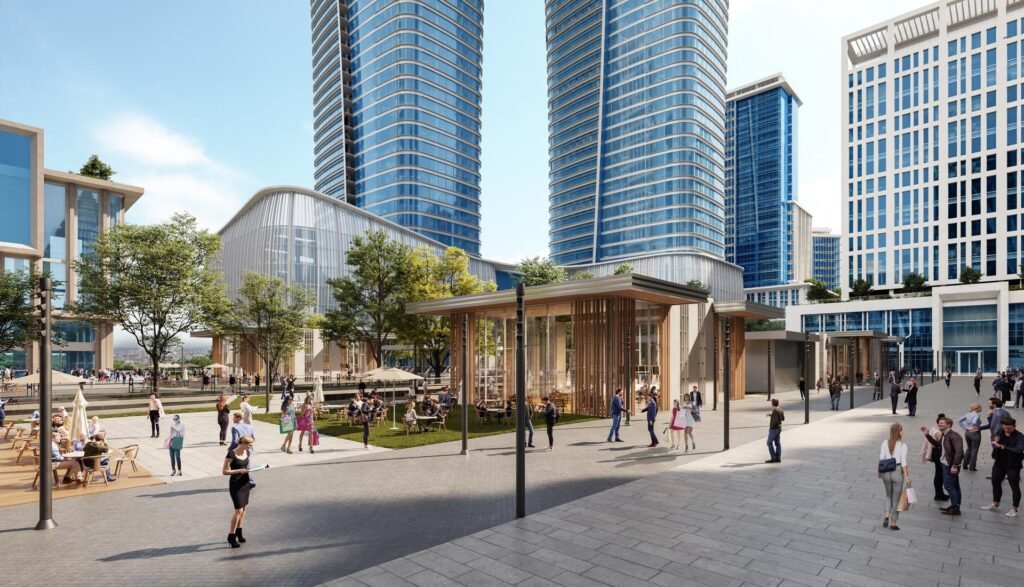 The İstanbul Financial Center has become the most important meeting place for domestic and foreign financial institutions and organizations, and the mall has been designed to be a shopper's paradise, with street architecture influences.
Spread over an area of approximately 100,000 m2, the İFC Mall was designed to meet the needs of 75,000 employees and visitors expected on a daily basis. In order to meet the needs of domestic and foreign employees and daily visitors, it will offer a wide range of services and brands – from gastronomy, apparel and technology to arts, entertainment, and other retail categories. More than 50,000 employees and 25,000 daily visitors will benefit from these services and enjoy shopping in an attractive and safe environment.
İFC Mall will host a wide variety of restaurants representing cuisines from all around the world, as well as the world's and Türkiye's leading retail, fashion and service brands, across more than 350 retail units. It will also serve as a culture and arts hub, with great transport connections – from the highway to the subway.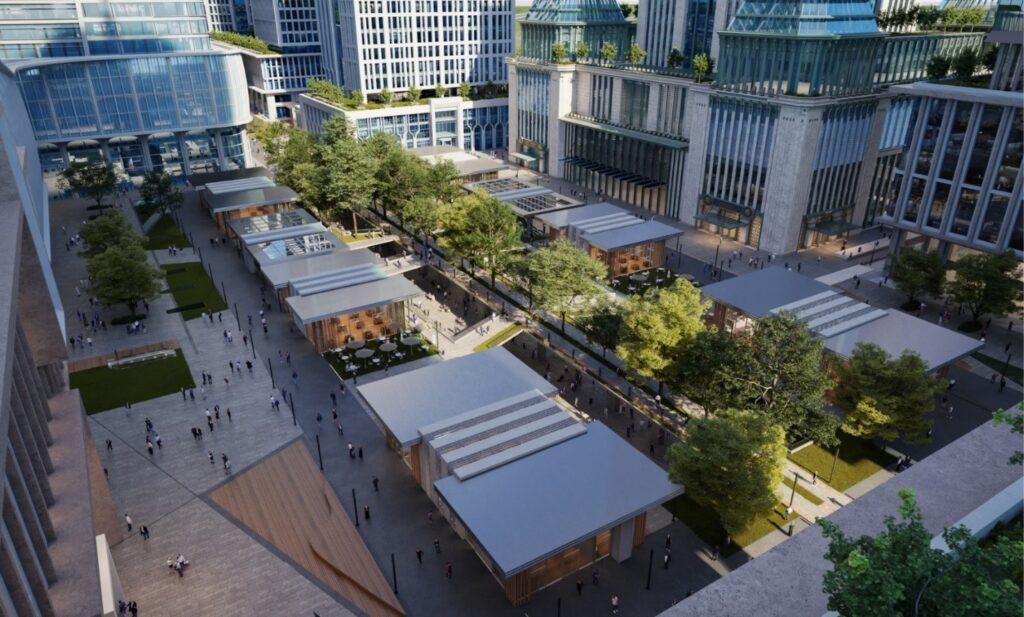 You can take your place at the İFC Mall to benefit from this new era of retail, which will be operational from mid-2022. We welcome you to contact us for information about renting retail spaces.This financial services ecosystem, which embraces advanced technologies, adopts a smart city model.
There is a five-star hotel project located over 34.000 m² within the İstanbul Finance Center for visitors. Guests who will make a business visit to İstanbul will be able to use their time more efficiently by staying at the hotel located at the heart of İFC.
The hotel, with a capacity up to 300-rooms and 375-beds, has been designed to meet all the needs of guests, such as a gym, swimming pool, and world-class spa.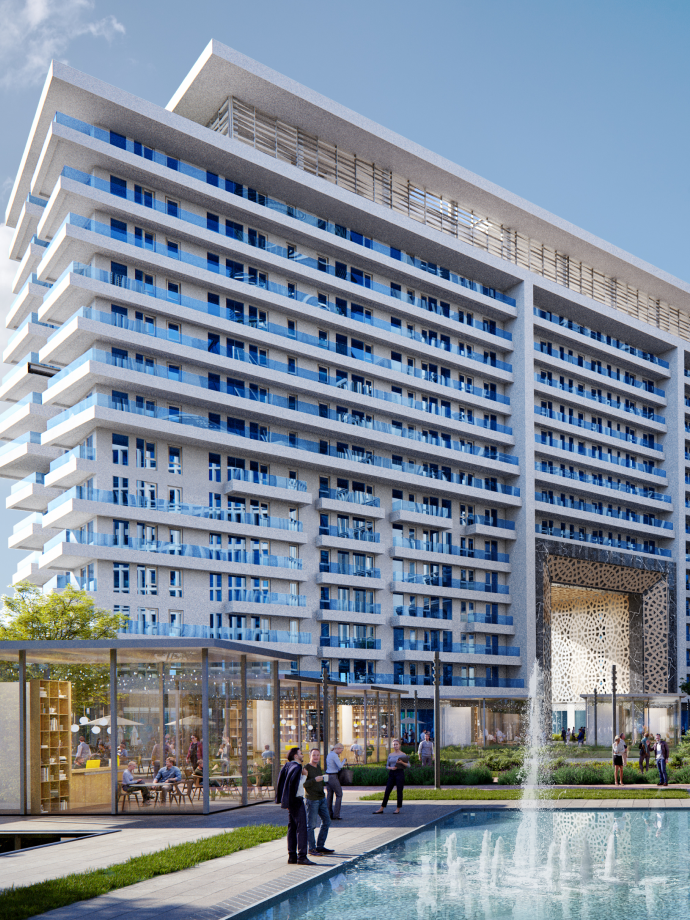 Covering 22,000 m² and with a capacity for approximately 2,100 people, the İFC Congress Center will be used for major national and international events.
The İFC Congress Center will host industry leaders at events focused on innovation, financial technologies, participation finance, as well as economic, finance, energy and environmental policies.
The İFC Congress Center will also open its doors for cultural and artistic events such as concerts and exhibitions.
The common areas of İFC will consist of a school, kindergarten, and health center, as well as a police station, fire department and prayer areas.
The street, forming a one-kilometer perimeter of the development, offers an uninterrupted walking track as well as green open spaces and squares, aimed at improving the health quality of the living spaces.